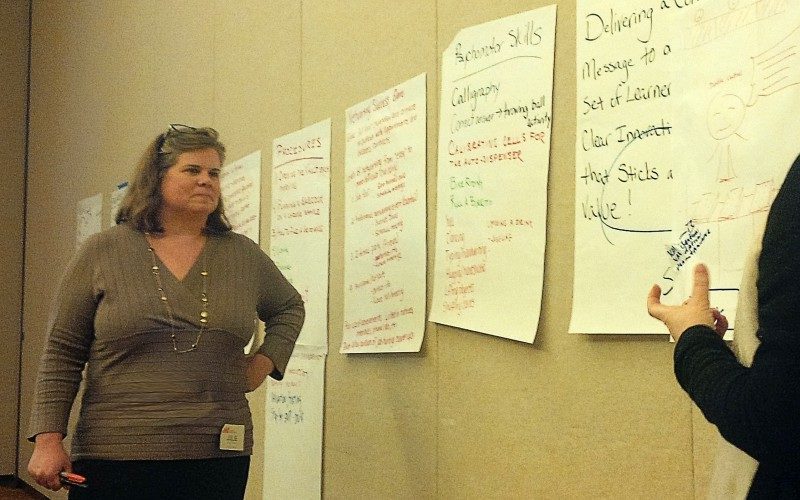 Help your team or organization take their instructional design to the next level, using research-informed instructional design methods.
Enable your organization to use behavioral science practices to make better learning to support behavior change.
Workshops are available in-person in half-day, full-day, and two-day formats, or as virtual workshops.
New and Updated! Learning Design for Behavior Change Workshop
In conjunction with the new book, Talk To the Elephant: Design Learning for Behavior Change, Julie is offering a new updated version of her Learning Design for Behavior Change Workshop.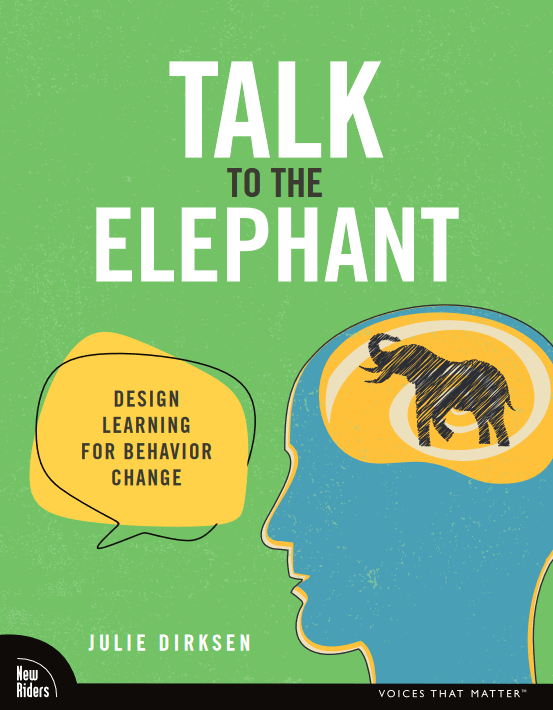 Description:
Behavioral design is a rapidly evolving discipline drawing from the research and science behind behavior change, including techniques from the fields of neuroscience, behavioral economics, behavioral psychology, persuasive technology, and habit formation. Most training has the goal of changing behavior but isn't drawing on behavioral science to be more effective.
In this workshop you'll explore the research and science behind real behavior change. You will look at what learning designers can learn from each of these disciplines and how you can use technology as an effective behavior change tool. This updated workshop will focus on 1) diagnosing the behavior change challenge, 2) matching the problem to appropriate solutions, and 3) creating an implementation plan. You will leave this workshop understanding the psychology, methods, and motivations of behavior change that are becoming an increasingly necessary part of a learning designer's toolbox.
This workshop will cover:
How to identify and understand the barriers to behavior change
Research-based methods to design solutions that not only inform learners but also inspire behavior change
How to use specific models and techniques for designing a change effort
How to design and implement a behavior change strategy
The workshop is available in-person or virtual. Public offering to come. Use the contact form below to learn more.
---
All workshop topics:
Instructional Design 101
A comprehensive overview of the instructional design strategies needed to hit the ground running as an ID.
---
Learning Design for Behavior Change
Learn to use research-based diagnostic tools to analyze and select interventions for difficult behavior change challenges.
---
LXD – Learning Experience Design
This workshop will address the essential best practices for implementing user-centered design (user research, prototyping, and testing) to ensure that your learning experiences are well-designed and effective.
Instructional Gap Analysis
Use a systematic framework for breaking down a learning challenge and selecting appropriate and effective learning strategies.
---
Game Design for Learning
Game-based learning can be an excellent motivation tool, but it can also be expensive and problematic. Take this workshop to ensure you are using the right strategies for good motivation and skill development.
---
Design for Complex Skills
This workshop uses frameworks from complexity science and the science of expertise development to diagnose complex learning problems and design experiences that support complex skill development.
---
Submit Your Workshop Request