So there was a twitter post from @edwsonoma pointing to this blog entry about tools.  It contains this sentence:
Consider what we want to do, then determine which tools support you doing it better, farther, wider, faster.
This was significant to me, because it came in the middle of more posts about the relevance of ADDIE.
Both Ellen Wagner and Tom Gram make the point that ADDIE is a process (Ellen: "Let's say it loudly and proudly – ADDIE isn't a learning model. Nothing about it says "learning model". It's a process model." Tom:  "Adherents and crankites alike view ADDIE as an "instructional design" methodology when in fact it should be viewed more as a project management process for learning projects.")
Yup — ADDIE is a tool, and as such, is fairly neutral.  The issues and heat seem to come from the associations (which I already ranted about here), and the status in the field that it has of being the destination rather than the vehicle.
Which caused me to do a little visual playing (take these as visual brainstorming rather than well-developed models, please):
Should it be more like this?
Or maybe this?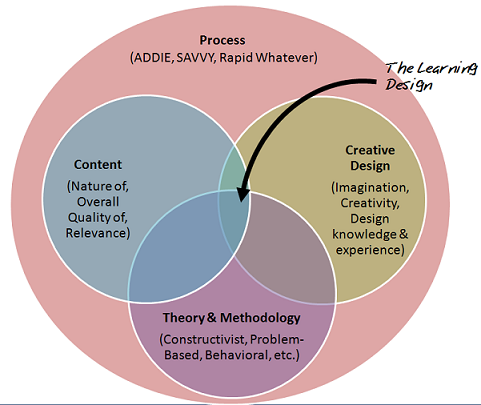 Not sure, but I do know that there is frequently a imbalance in the emphasis that gets placed on the different areas, and an insufficient number of tools to help practioners with both the green and purple circles.  And the learner needs a place in there somewhere, too.
Let's face it — ADDIE (or any process) is the easy part to define — it has the least number of variables, is the most under our control, and is the easiest to understand and is the most visible.
Other things — how to be creative, how to best get people to really learn, how to best match content and experience to learners and outcomes — those are much harder to figure out, and much harder to know if you got right.
So what do you think?  What's missing/wrong in the diagrams?