Hey folks,
Last June I presented at the very first Learning and Entertainment Evolution Forum (LEEF)  in Harrisburg, PA.  The forum was put on by the fabulous folks at the Harrisburg University of Science and Technology.  Can't say enough good things about them — they are really trying to do it right.
Currently the call is out for Case Study sessions on topics related games and simulations in learning (the case study format is one of the real strengths of the forum).  If you are doing something interesting, consider submitting a proposal (details below). If you have any questions about it, feel free to ping me.
Here's the invite:
---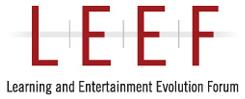 You and your team are doing some great work with games and simulations for learning and performance improvement!  Are you presenting the results of your work at industry conferences?  If not, you should be.  You can help advance the effort to make organizational learning more engaging and more impactful by sharing your experiences with others. I suggest you submit a case study proposal for LEEF 2010 – an event that focuses on profiling case studies in games, simulations and virtual worlds.
The Learning and Entertainment Evolution Forum (LEEF) will take place in Harrisburg, PA on June 17-18, 2010.  In addition to keynotes, high-tech demos and workshops, one aspect that makes the forum so beneficial is the degree of interactivity and the depth of analysis that is provided through the two-hour case studies. Case study sessions present best practices in game, simulation and virtual world learning initiatives, and analyze innovative uses of technologies in which learning and entertainment goals converge.  This year's theme will focus on practical steps for overcoming barriers to adoption related to organizational, design, and technical challenges.
Proposals for case study sessions are being accepted now through December 21. You can learn more about the event and the case study proposal process online at:  http://www.harrisburgu.edu/LEEF2010/case-studies.php.