I have this great little shelf in the bookshelf app on my ipad.  It's just books by people I know.  I feel genuinely privileged to know so many people with so many interesting things to say.
Some of them are drafts for books that are still in progress., but one that's already out in the world is Koreen Pagano's Immersive Learning: Designing for Authentic Practice: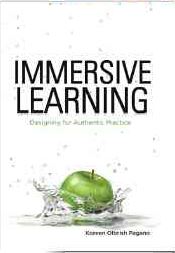 It's great, for a few different reasons:
Reason 1: The subtitle — Designing for Authentic Practice.  So immersive learning environments can sometimes be shiny objects.  Remember when everything L&D was going to start happening in Second Life?  Yep, that didn't happen.
One of the reason's it didn't happen was because there was because the focus was on the technology ("Ooo – we can build a virtual replica of our corporate university!") and not on the really interesting part — the possibility for high-context practice. We remember more if we learn something in the same environment where we will use the information, so virtual worlds were interesting for that reason, but that got lost in the hype cycle. Koreen rightly focuses on the real purpose for immersive learning – high-context practice environments.  It's about the practice, not the technology.
Reason 2: The case studies — So, one of the problems with a lot of L&D books is that they are more about what can be done, rather than examples of what has been done. This naturally happens with new technologies.  When they were brand new, both mobile and xAPI have had to start with the possibilities rather than real examples, until some critical mass built, allowing for case examples.
Immersive learning suffered similarly for a long time, but if anybody is able to speak from direct experiences, it's Koreen.  The book is worth it for the case studies alone. Lots of really good examples of use, with the kind of nitty gritty details you need to help inform your own practice.
Reason 3: Underwear Gnomes — how can you not love a book that starts with a really well-played South Park reference?  It's indicative of Koreen's overall accessible, entertaining style, which makes the book a really pleasurable read.