My new book, Talk to the Elephant: Designing Learning for Behavior Change is available for right now!
Order on Peachpit (publisher website)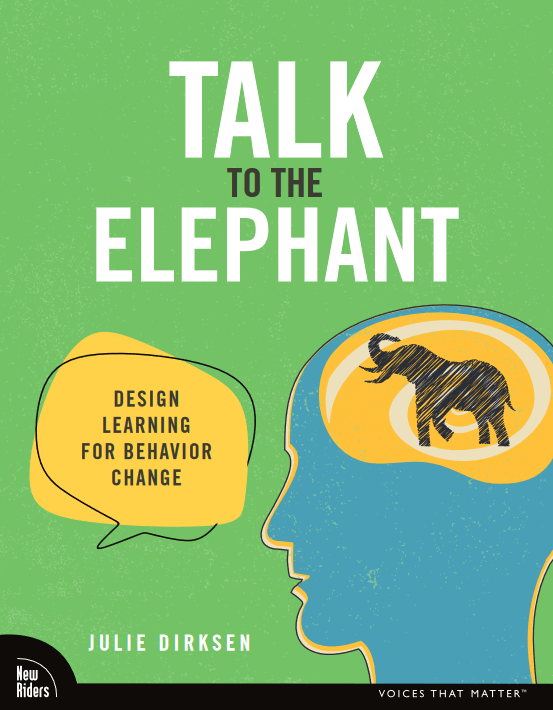 Learn more about the book here!
Design for How People Learn is one of the bestselling books in Learning and Development.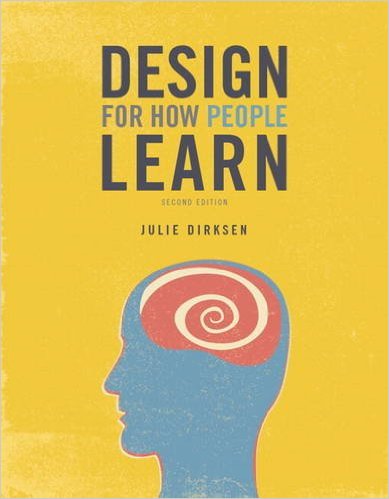 "Frankly, this is the best book on learning design I've seen for the beginning designer, particularly those who haven't had the necessary foundations and experience. This is the quick start anyone designing learning should use to get to success the fastest."

Clark Quinn, Author and Learning Expert
View the table of contents or download Chapter 8: Design for Motivation.
---
What People Are Saying About Design for How People Learn
"Even if you're not a learning geek, leafing through the pages of Design For How People Learn by Julie Dirksen will make you think, 'This should be be fun.'"
Connie Malamed
The eLearning Coach
"One of '10 great books to help you think, create, & communicate better in 2012'… it has good material for professionals and students that can help them understand how people learn and how to design learning experiences (like presentations) that do a better job of engaging audiences."
Garr Reynolds
Author of Presentation Zen
"One of the things I appreciate most about Design for How People Learn is that Julie Dirksen applies her own advice. First and foremost, she writes for how people like to read. The style is conversational, varied, and fun. She tells stories and makes liberal use of examples and non-examples, both hypothetical and from her experience."
Judy Katz
Instructional Designer
"I'm delighted to have this witty, insightful, cleverly illustrated guide."
Michael W. Allen, Ph.D.
Author of Michael Allen's Guide to E-Learning
"There's book a I've been meaning to write…tentatively called…'What every L&D [Learning and Development] professional needs to know about learning' (not so catchy I know). But I've been beaten to the gun by Julie Dirksen."
Clive Shepherd
Author of The New Learning Architect
"All in all, a great read for anyone interested in how people learn. Four cups! [Highest Rating]"
Ann Pace
ASTD T+D Magazine
"If it's possible to be in love with a book, then I am in love with this one. Julie Dirksen has written a most excellent book for the beginning practitioner as well as the seasoned veteran of instructional design."
Cammy Bean
Vice President of Learning Design, Kineo
"This book is probably the single best book for the person who's just getting started and wants to know more about instructional design and how people learn."
Tom Kuhlmann
Author of the Rapid E-Learning Blog
"I think this book is an excellent resource and should be added to the reading lists of both new and experienced Instructional Designers."
David Kelly
Misadventures in Learning blog
---