Hey folks,
So Bryan Jones at elearningart.com did a very fun interview with me for his blog.  In conjunction with the interview, he's giving away five copies of Design For How People Learn!  Elearningart.com is a nifty resource for creating scenario based learning, and much easier than combing the stock photo sites for multiple pictures of the same model.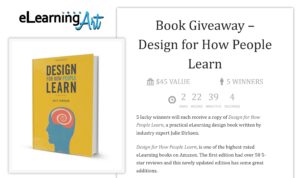 A few other things that are happening:
There's an interview with me on elearningmagazine.co where I talk about things like the importance of using conversational language.
I'm also teaching a few public workshops in the next few months.
I'm teaching at session of the Advanced Instructional Design for Elearning Certificate at the ATD ICE Conference on May 20-21 in Denver.
I'm also doing an elearning instructional design certificate program at the Online Learning Conference in Chicago September 19-20.
Thanks!