Hey folks, a couple of things that have been happening lately:
The fabulous Janet Laane Effron and Sean Putnam are doing a MOOC on learning design for data.  This is going to be a big deal in our field, and this is really nice, accessible opportunity to learn more.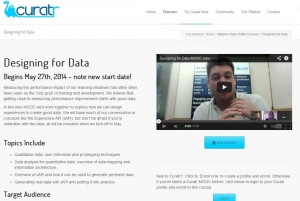 It starts today (May 27th), but it's definitely not to late to join.  You'll also get to see the curatr platform, which is one of the more interesting learning interfaces to be developed in the last few years.
Also, I did a presentation at the ASTD (erm, ATD) ICE Conference on User Experience (UX) for learning.  Slides are here: