So, apparently there's a chinese version of Design For How People Learn, which is delightful.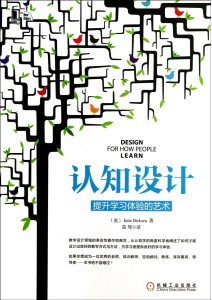 Apparently when you take a Cammy Bean quote, translate it into Chinese, and then let google translate turn it back into English, you get this marvelous wisdom:
'If you let me fall in love with a book, then I would deeply in love with this present. Julie Dirksen prepared for the beginner a most excellent book, so that they can be like the old bird as instructional design. "
– Cammy Bean, Kineo, vice president of learning design 
How great is that?  Be like the old bird, people.
Coming up next: A Russian version in September 🙂
Update – here's the Russian Version available for pre-order:
There's no Cammy Bean quote, but run the title through Google Translate and it comes out:
"Art of teaching – How do any training not boring and effective."
Well, okay then.